"We Wanna Dance" Ballroom Bash III
We're pleased to announce "We Wanna Dance" Ballroom Bash III will feature Eric and Michelle Hudson! Eric and Michelle will join us to teach two workshops and treat us to two professional showdances on September 17th.
Eric and Michelle have an extraordinary list of accomlishments in American Smooth:
2006 Indiana Challenge Champions
2007 Heritage Classic Rising Star Champions
2007 Heritage Classic Open Finalist
2007 St Louis Star Ball Rising Star Champions
2007 Wisconsin State Rising Star Champions
2007 Emerald Ball Rising Star Champions
2007 Twin Cities Open Champions
2007 Capitol Dancesport Rising Star Champions
2007 Embassy Ball Rising Star Champions
2007 Holiday Classic Finalist
2008 California Open Rising Star Champions
2008 California Open Champions
2008 Heritage Classic Open Finalist
2008 Dancing Ala Carte Champions
2008 American Star Ball Rising Star Champions
2008 United States National Rising Star Champions
2008 First Coast Classic Champions
2009 Mexico Open Champions
2009 Dancing Ala Carte Champions
2009 Emerald Ball Finalist
2009 United States National Finalist
2009 World Finalist
More Information about Eric and Michelle
Private Lessons
A limited number of private lessons with Eric or Michelle will be held on Sunday, September 18th, available on a first come, first served basis. Lessons will be held at Cannon Studios, 260 33rd Ave SW, Suite G, Cedar Rapids, Iowa. See order form for details.
Printable Flyer
Schedule (Saturday, September 26, 2015)
2:15 - 3:15 pm
Rhythm Workshop with Eric & Michelle: Structure and Rhythm in Rumba
3:30 - 4:30 pm
Smooth Workshop with Eric & Michelle: Arm Styling from the Body to your Fingertips

5:30 - 6:45 pm


Dinner (Mexican-themed menu catered by Clarion Highlander)

7:00 - 10:30 pm
Social dancing with two professional showdances by Eric and Michelle

Also performing:

Derrick & Susie Murray
Doug & Jill Beardsley
Hawkeye Ballroom Dance Company formation team

Attire: semi-formal/cocktail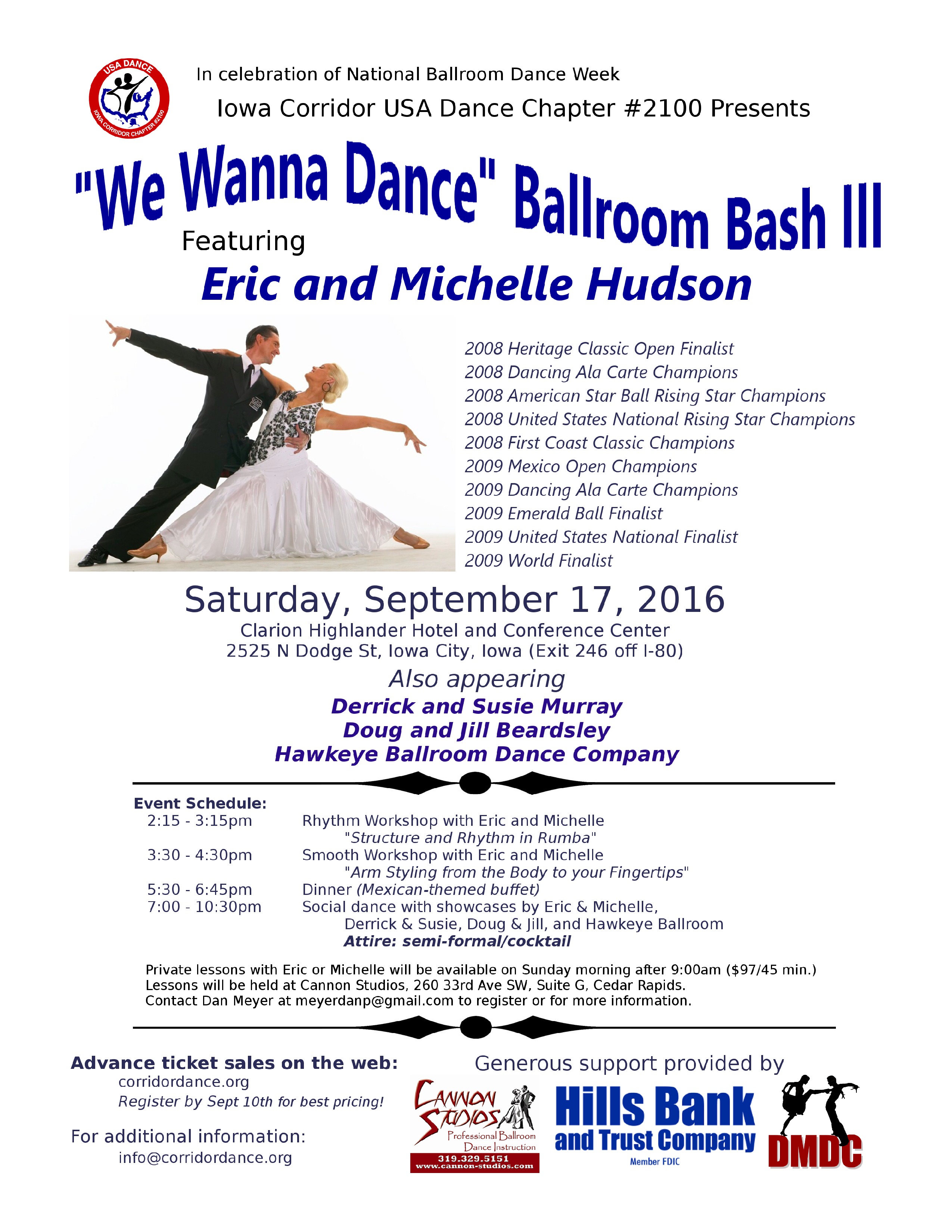 Past Events