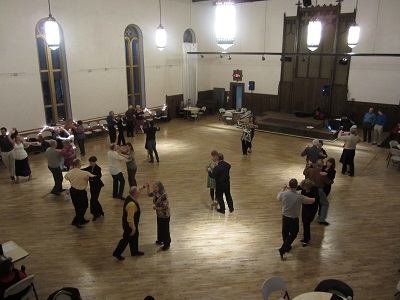 Our monthly social dances are held at Old Brick, located at 26 E. Market St. (on the northwest corner of Clinton and Market) in downtown Iowa City.  Old Brick provides a wonderful wood floor and great ambiance.  [map to Old Brick]
---
Dances begin at 7:30 pm, with a one-hour lesson (except December) tailored to the beginning and beginner/intermediate dancer.
» All levels of dancers are welcome!
» No experience required!
» No partner is required!

Next Old Brick dance: 
Friday March 2nd
Lesson will be West Coast Swing by Cassidy LeClaire at 7:30 pm

Social Dancing: 8:30 pm - 10:45 pm (to recorded music)
Cost:
USA Dance members: $6
Non-members: $8
Students: $4  
Our social dance playlist encompasses a wide variety of ballroom and latin styles, including waltz, foxtrot, tango, quickstep, viennese waltz, cha cha, rumba, east coast swing, west coast swing, bolero, hustle, salsa, samba, merengue, and nightclub two-step.
Not a Member? Complete an application for membership with Iowa Corridor chapter #2100 and pay at check-in to get free admission to that nights dance. Or, join Iowa Corridor #2100 online at USA Dance and bring your new ID card for your free dance admission.
Sunday February 25th - Afternoon Dance in Ely at American Legion:
Date/Time: Sunday February, 25th 2018 3:00 pm to 5:00 pm
Location:    Ely American Legion, 1535 Main ST, Ely, IA 52227

Cost:         $5 per person
Old Brick and other Dances in 2018:
Friday April 6th (Movie Theme this month!)
Friday May 4th
Friday June 8th (note - second Friday)
Friday July 6th
Friday August 3rd
Friday September 7th
Saturday September 15th - We Wanna Dance Ballroom Bash V !!!!!
Friday October 5th
Friday November 2nd
Friday December 7th